Welcome to Transrusad S.L.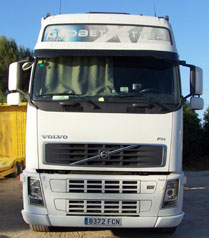 If you are looking for a competent partner in the field of transport, you have come to the right place.
Transrusad S.L. is a modern company that has managed to assure a high standard of quality in all the services that we offer, thanks to an excellent and dedicated team. Our main activity is the refrigerated transportation and, as a result, our foremost goal is the fulfillment of the agreed delivery times so that the merchandise arrives to its destination in a perfect condition.

Our area of business is both national and international, reaching all European countries. Also, one of our priorities is the exportation of fruits and vegetables from Spain and Italy to eastern countries like Russia, Ukraine and Belarus.